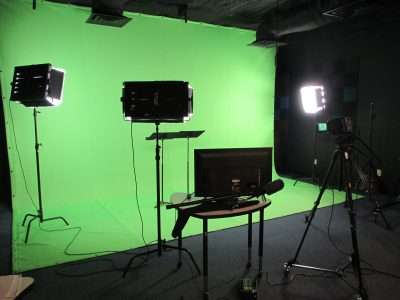 ESD Flooring For Broadcasting Studio
StaticSmart®️ by Julie Industries, Inc. was proud to offer our ESD Flooring for the Broadcasting Studio at Kilgore College in Texas. The new facility features ESD Flooring with editing equipment and an innovation center featuring a training and collaboration room for Kilgore College faculty members.
For this project, StaticSmart's ESD Flooring was used to combat the risk of static shock and provide ESD protection for the editing equipment in the TV recording studio.
"The StaticSmart was installed in our control and recording room because of the sensitive equipment we purchased. The other carpet we placed in the training areas so we could move around the seating and tables with ease as well as replace any squares in the event they became damaged or worn. Our entire faculty and staff are very excited about the looks and the innovative technology items we have available for them."

– Jeff, Environmental, Safety, Construction & Facility Manager
StaticSmart's ESD flooring can be found in recording studios and
tv network studio flooring
like this project of ours in New York. Are you looking for ESD protection for electronics in editing, broadcast, projection, and video rooms? Request a
esd flooring quote
from our team.